Meet the NABAS Committee Members
Below are the profiles of the NABAS committee members.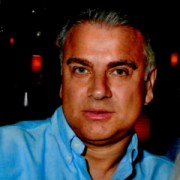 George Oustayiannis – GO International
George was co-opted onto the committee in 2014. George Oustayiannis is a director of GO International, one of Europe's leading importers and wholesalers of balloons and party products. After leaving the City as a successful broker in the 80's, two paths became available to him. The first was entering on a ground floor opportunity in the mobile phone industry. And the second was the balloon and party industry. As everyone, including his bank manager told him no one would want a mobile phone, and that a mobile phone business would never be successful, George became a Party Wholesaler. The fledgling mobile phone opportunity became part of EE!! and the rest is history!
George has been at the forefront of our industry and was involved with the British Standards Institute on discussions regarding safety and Nitrosamine levels in latex as well as working with trading standards regarding packaging and CE Markings. His company was amongst the first to offer quality training in the UK, and as Chairman of NABAS he hopes that with the help of the committee we can offer support and focused relevant training to all our members.
Angie George – Balloni & Capel Manor College
It was 15 years ago when both my children were at the age for full time education that I discovered the balloon world whilst searching for a creative college course.
It was out of curiosity that I signed up for the City &Guilds balloon artistry course at Capel Manor College in Enfield.
I became hooked immediately and within 2 months into the course I braved my first competition at a major balloon event .
After completing the Level 1, 2 and 3 balloon courses I was asked by Capel to join their teaching team……13 years later and I find myself still as passionate about the industry and the teaching of balloon artistry.
I became a NABAS trainer just over 2 years ago when I approached the NABAS committee to link Capel Manor College with NABAS and incorporate the Level 1 and 2 courses to our current college courses.
It was a year later when our current Chairman twisted my arm and persuaded me to join the committee.
I would like to take this opportunity to say how proud I am to be part of this organisation and look forward to hopefully meeting you all at our organised events.
Paula Ardron-Gemmell – Pink Tree Parties
I stumbled into balloons as a profession in September 2007 when my family returned from living in South Africa. Whilst living there, raising our two littlies, I not only got married to my lovely hubby, but also took a business course, as well as event planning diploma, with a view to doing ANYTHING except returning to an office based career. My background was accountancy and finance but I'd always loved the idea of being my own boss.
Our return to the UK coincided with my best friend taking a career break so, after a visit to the Autumn Fair at the NEC she agreed to start up Pink Tree Parties with me. Hence we found a high street property and enrolled on Mitch's NABAS course. After 3 months of hard slog we opened the doors to our shop in January 2008.
Over the years the industry has changed and we've had to adapt – we regularly attend training courses, keep up to date with industry trends and developments in social media. Now Amanda has returned to full time teaching, I've become the partner most passionate about balloons and their possibilities, I love the creativity involved in this industry.
The balloon industry is unlike any I've known – it's so supportive of fellow professionals. I'm really proud to have been asked to join this committee so I can hopefully give a little back to other members.
Kate Hope – Happy Smiling Balloons / Happy Smiling Faces
After nearly 15 years spent completing a Degree in Law, another in Criminal Justice and working full time in this field, I decided it was far too depressing so I took the plunge and chose not to return to my job after having my oldest child. I decided to turn my hobby into a career, so Happy Smiling Faces and Happy Smiling Balloons were born. I'm now a mother of 3 and have spent the last 6 years building up my businesses and working as a professional Balloon Artist and Face Painter. I am home based, which currently suits me due to its flexibility. I'd like a studio in the future, but for now that would be too tying for me. I love being my own boss and have no desire to return to my previous career. I am now based in Fife, Scotland where I was born, but have also lived in Durham and Nottingham. Three years ago I set up a Registered Scottish Charity, a Fife wide children's Christmas Gift Appeal, which also keeps me busy. I run this with 3 other mums and a dad. It is a huge amount of work in the run up to Christmas but very worth it.
I love to create and I love to make those I create for smile, whether it is a smile from a small child whose face I have just painted or a smile from a client whose venue I have installed balloons into. I have invested heavily in training over the last couple of years, have become a CBA and have worked hard to build up a portfolio of my work. I have travelled around the UK to attend various NABAS and Qualatex courses. I take particular pride in making sure I have the best possible photographs of my work. My website and my photos are my shop front. My husband is a professional photographer so I've grown to have an interest in photography too, although I'm no expert. I have so far found the balloon industry to be interesting, friendly, supportive, inspiring and certainly something that I am very happy to be part of. I am very excited about the opportunity to become more involved with NABAS and I look forward to meeting and working with more NABAS members in the future.
Kirstin Tuddenham – Create & Cherish Events and Balloons
After 14 years of working in Insolvency I decided I wanted to do something more creative and joined the party industry part time as a face painter and balloon modeller. I've been taught by some fantastic artists over the years such as Nick Wolfe, Wendy Holroyd, Twistina and Twistopher, Rob Driscoll, Tony Twist plus many more.
My love of balloons became apparent very quickly and I started to add balloon decor to my packages. I knew this wasn't something I just wanted to play at so took my Level 1 and 2 within 12 months with Mitch. I was given a little help along the way by the late Julie Barnes (an award winning member of NABAS) who also got me interested in venue decor. In 2015 my business came third in the Great Northern Wedding Awards but in 2016 I had take a step back from venue decoration due to ill health. Something had to give and my passion is with balloons.
Over the last few years I've taken time to really consider where my business is at and what I want from it. Yes I want to create beautiful balloons but I also want to teach people within the industry and the public that there is so much more than three balloons on a weight.
I've recently moved into an Industrial unit so my customers can come and see what it is that I can create for them as I'm a true believer of talking to the client face to face.
I'm passionate about NABAS and what it stands for and look forward to working with all it's creative members.
Liz Williams – Balloons by Lizzylou
With only five years working with balloons, Iam still very much on a learning curve . I believe if you take out , you must give back. NABAS has enabled me to grow , develop and feel part of something much bigger than the yearly insurance we all subscribe to.
My background as a Nurse for the N.H.S . and Health and Social Care Lecturer at a College of Further Education provides knowledge ,skills and experiences that will support my new role as one of your six committee members for NABAS.
I look forward to meeting many of you and hope that together , investing in our association and making the most of what it can provide , you will join me in giving back and actively support a marvellous opportunity to be part of something continuously moving onwards and upwards.
Happy Ballooning Liz.